Variety is the spice of life and this is certainly true when it comes to food!
When I say eat from the rainbow I do not mean dive into a bowl of skittles.  
All vegetables and fruit come in different colours and each colour actually contains a specific set of nutrients.  Focusing on the colours on your plate makes meal planning so easy because   just by using colour as your guide you can increase the nutrient value of your meals dramatically. 
Not to mention that having a plate full of colour is so much more beautiful and appetizing than looking at a very "beige" meal.
Fruits and vegetables are a great source of vitamins, minerals, and plant chemicals that are extremely beneficial for our health. However, the question remains: are you getting enough of all of these items?
Today's research shows a strong positive correlation between fruit/vegetable intake and the reduction of chronic diseases such as cancer and cardiovascular disease. Properly incorporating these plant-based colors into your diet are also commonly associated with psychological well-being, which can improve the overall mood and feelings of your patients.
Even though these findings are generally well-known most adults still do not consume proper amounts of fruits and vegetables or enough variety. This is known as the phytonutrient gap. Most adults are not aware of their lack of certain types of fruit/vegetable intake because they eat the same veg and they are limited to just a few of the colour groups such as the green and red colours.

Why Colours Make A Difference
Fruits and vegetables are made up of phytonutrients, which are compounds that give the plants their vibrant colors, distinctive tastes, and smells. These compounds also strengthen the immune systems of plants and protect them from diseases. There are many germs, bugs, and fungi along with other threats in the natural environments of plants and phytonutrients are constantly working to protect the plants from those threats.
With all of these benefits that phytonutrients provide for plants, they also provide huge benefits when consumed by humans. Phytonutrients are cell signaling agents and messengers and have been found to have effects on inflammation, insulin sensitization, and stress response. Modern research has also shown that they have functional and structural capabilities which allows them to play an even bigger role in protecting against diseases.
When I am working with clients we are not just looking at the macros of protein, carbs and fats of their food plan, I am also guiding them towards incorporating a lot of variety in their veg and fruit intake.
Below is a brief overview of the colors of fruits and vegetables and the different phytonutrients with different functions.
Red Foods: rich in antioxidants and anti-inflammatory molecules that prevent inflammation and oxidative stress 
Orange Foods: similar phytonutrients to red foods, also support reproductive health
Yellow Foods: good for digestive tract, contains prebiotics that encourage gut bacteria to produce short-chain fatty acids (special molecules that nourish the cells of your gut)
Green Foods: contains nutrients that are good at protecting the cardiovascular system from oxidative stress which is linked to high blood pressure, atherosclerosis, and heart disease 
Purple-Blue Foods: boost urinary tract health and memory function and promote healthy aging
The Benefits at the End of the Rainbow
Consuming a sufficient amount of these colorful fruits and vegetables can be the reason that people are able to live a longer and healthier life. An epidemiological study found that increased intake of fruits and vegetables are associated with reduced risk of chronic diseases and all-cause mortality.
Unfortunately, the study also found that eight out of ten Americans lack phytonutrients from all colors of fruits and vegetables.
To get started on incorporating more of these amazing and powerful phytonutrients into your diet just use the colours on your plate as your guide.
Look at your meals throughout the day and ask yourself if you have eaten from all the colour groups. If you are missing one of the colours then top it up with a healthy snack from that colour. This makes it very simple.
If you're looking to be more educated on how to consistently be inclusive of all sorts of colorful fruits and vegetables as well as the benefits and want more meal ideas, then request my free 14 Day Rainbow Diet.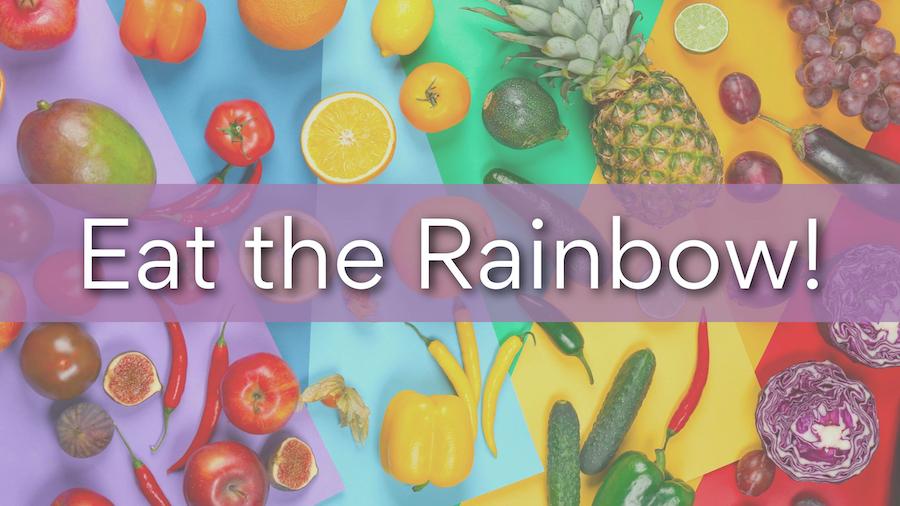 This plan encourages incorporating two to three different-colored fruits or vegetables at every meal and at least one at every snack.  You get several recipes and ideas on how to do this. 
The basis of this educational plan is not to learn how to limit calories, carbs, or certain types of food, but to instead learn the benefits of being inclusive of all sorts of colorful fruits and vegetables.
Now your meals can be even more nutritious and your plate will look very appetizing too which will leave you feeling more satisfied.